ACN's Hear It Again
The History of the Old Fashioned Revival Hour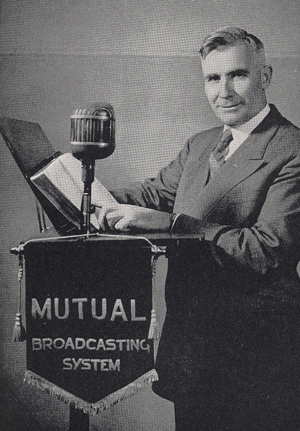 In 1927, Charles Fuller was invited to fill in for the regular speaker on a gospel radio program in Indianapolis. He was in town attending a Bible conference.
The concept of being able to talk into a microphone and reach people had a strong impact on the young man. Three nights later while on a train to Chicago, God awoke him and gave him a vision for the possibilities of reaching people via radio. He was given an assurance that radios would become very popular and soon would be in every home in America.
The tremendous possibilities of reaching the lost by means of this new miracle called radio was borne in him so dramatically that, for several hours, he cried out to God in prayer that God would work mightily for the spread of the gospel over the entire country via radio>

Dr. Fuller returned to California, where he was pastor of a small church, and immediately contacted KGER in Long Beach and purchased time in February 1928 for live broadcasts from his church. He continued on KGER with a Thursday evening Bible class and the morning and evening Sunday services until he resigned from the church in March of 1933 in order to devote his effort to radio full time.
He now originated a Sunday morning and evening program from the studios of KGER. The Sunday morning program was called the "Pilgrim Hour". Soon, people began to stop by the station to watch the live program. This was not unusual. Most radio stations had a large Studio A in those days and a large lobby from which people could sit and watch programs.
The Sunday evening program was called the "Old Fashioned Revival Hour". In May of 1933, Dr. Fuller formed the Gospel Broadcasting Association as the entity to sponsor the radio programs and receive donations to support the programs on KGER.
Support was sufficient that about August of 1933, Dr. Fuller added programs on KFI and KNX in Los Angeles. This required to move the program from the KGER studios to the Hollywood Women's Club. In 1936 there was a change of station management and format at KNX and so in January of 1937 he switched his hour long Sunday program to the Mutual Broadcasting System that had just recently started up with about 13 stations.
When Mutual became a coast-to-coast network in August of 1937 by joining the West Coast, Don Lee Network, Dr. Fuller decided to stay on the network which meant an increase from 13 stations to 65 and an increase in cost form $1441.00 a week to $4500 a week. Remember these were 1937 dollars.
The Mutual Network was growing by affiliating with other regional networks and by October of 1938, Mutual had 150 affiliates carrying the Old Fashioned Revival Hour with a cost to Fuller of $14,000.00 a week, including modest funds for a small office. The program now originated from a large studio, 50 by 60 feet, at KHJ in Los Angeles. KHJ was owned by Don Lee, a Los Angeles automobile dealer and his Don Lee Network was carrying the Mutual programs to his stations in LA and San Francisco and other Don Lee Network affiliates on the West Coast. The Mutual Don Lee Network originated from joint studios with KHJ.
More to come.